Shrink, track and share any URL on the Internet from your WordPress website. Unlike other link shrinking services like tinyurl, budurl, and bit.ly, this plugin allows you to create shortlinks coming from your own domain! Pretty Link tracks each hit on your URL and provides a full, detailed report of where the hit came from, the browser, os and host. Pretty Link is a killer plugin for people who want to mask their affiliate links, track clicks from emails, increase the reach of their website by spreading these links via Twitter, forums or comments on other blogs.
What people are saying:
"I don't know if you realize it or not , but I think you've created what's going to be one of the 'most sought after' and 'useful' solutions for every WordPress user out there!!!

"I could probably write a book explaining why this plugin would be one of the 'must have' tools to have in your WP arsenal, but to top it off… not having to add the extra directory for the URL plus being able to track clicks too! AWESOME!"

— Jason G
"Way cool! Thanks 🙂 I'm loving this plug in more and more every day!"

— Austin Prime
"Brilliant! Works like a charm."

— Christian
"I just wanted to thank you for creating such an incredible plugin. You cannot begin to imagine how long I have been searching. Nothing I have tested or purchased, begins to compare with Pretty Link. Today happens to be my birthday, and I consider finding your plugin today as a perfect birthday gift to myself."

— Paul Schubert
"Thank you so much! I have been crawling the web for this type of plugin for several hours.. all I found were paid ones which sucked and free ones which lacked one or two small features I needed.

"This script is PERFECT!"

— John
"I am pretty much impressed with your prettylink. Like its name, pretty link is really awesome. In the beginning of my blogging stance, I have tried many things to cloak my affilitite links,such as php and htaccess. It was really a gruesome experience. I have even messed up my blog trying out different methods. Glad to say that I'm grateful to have stumble upon prettylink. I am so excited using prettylink to cloak my affiliate links. Keep up the good work. Looking forward to getting great stuffs from you. Thanks again."

— Kumar
Features
Gives you the ability to create clean, simple URLs on your website that redirect to any other URL
Generates random 2-3 character slugs for your URL or allows you to name a custom slug for your URL
Tracks the Number of Hits per link
Tracks the Number of Unique Hits per link
Provides a reporting interface where you can see a configurable chart of clicks per day. This report can be filtered by the specific link clicked, date range, and/or unique clicks.
View click details including ip address, remote host, browser (including browser version), operating system, and referring site
Download hit details in CSV format
Intuitive Javascript / AJAX Admin User Interface
Pass custom parameters to your scripts through pretty link and still have full tracking ability
Ability to rewrite these custom Parameters before forwarding to Target URL
Setup Pretty Links as Tracking Pixels and track impressions
Exclude IP Addresses from Stats
Enables you to post your Pretty Links to Twitter directly from your WordPress admin
Enables you to send your Pretty Links via Email directly from your WordPress admin
Select Temporary (307) or Permanent (301) redirection for your Pretty Links
Cookie based system for tracking visitor activity across hits
Organize Links into Groups
Create nofollow/noindex links
Turn tracking on / off on each link
Keep users on your site even when being redirected by using the PrettyBar which stays at the top of the page
Configure the PrettyBar to mirror the look and feel of your website
Great things you can do with Pretty Link
Clean up / mask affiliate links or merchant shopping cart links
Track the effectiveness of email campaigns by embedding Pretty Links in your emails
See how many times an email is opened by creating a "Tracking Pixel" Pretty Link and embedding it in the email
Kickstart and Fuel the SEO on your site by posting Pretty Links from your site on Digg, Twitter, Facebook, other blogs and everywhere else on the Internet.
Create Pretty Links for private special offers (to your email list) using a randomized slug to prevent the URL from being "guessed"
Write custom scripts in PHP, Ruby on Rails, ASP or anything else that accept parameters and use Pretty Link to make their URLs "pretty" and forward on the parameters
Setup pretty links for your zip, pdf & binary files and track how many times they are downloaded
Use to track results of your PPC campaigns by setting your ads to go to Pretty Links
Track Everything!
Examples
Here are some active Pretty Links on my site right now:
https://blairwilliams.com/aweber
Here's an example of a link that uses the Pretty Link PrettyBar:
Download
Pretty Link can be downloaded from the WordPress Plugin Directory here:
https://blairwilliams.com/download
Seriously, look how great this plugin is: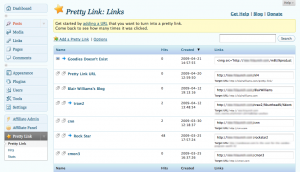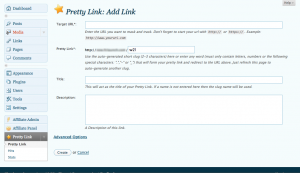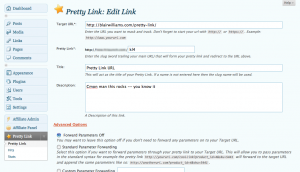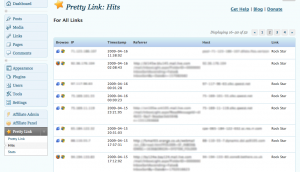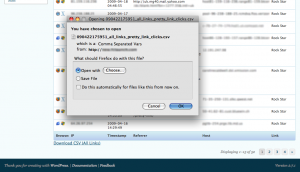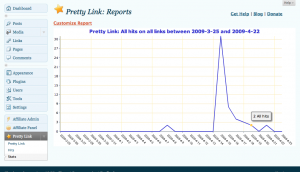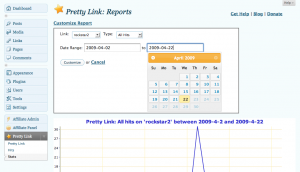 Changes
To see what new changes have been released in Pretty Link lately, check out the Pretty Link Change Log
Get Involved!
Here are some great ways you can get involved in helping make Pretty Link a better Plugin:
Write a post about Pretty Link on your blog
If you think Pretty Link is the best thing since sliced bread then go to WordPress' Pretty Link Download page and give it a good rating (you have to register for a free account on wordpress.org before you can do this).
Help support the development of Pretty Link with a Donation.