So I just got back from BlogWorld Expo / WordCamp Las Vegas 2009 — it was awesome! Since it seems like everyone is talking about this event now — I just want to focus on my own personal experiences and things that I learned. Here are some of the highlights and takeaways from the event:
Day 1 (Thursday):
The 2 highlights for me on Day 1 were the "Internet Marketing for Smart People" Session and the End of Day Keynote from Chris Brogan.
The "Internet Marketing for Smart People" session was a panel by Sonia Simone (http://www.remarkable-communication.com), Chris Brogan (http://chrisbrogan.com), Brian Clark (http://copyblogger.com), and Darren Rouse (http://problogger.com). This session was packed and rightly so, there was some phenomenal information shared–it even had it's own Twitter hash tag: #3tribe … The gist of the 3 tribe thing a reference to Seth Godin's Tribes book. The panelists showed that there are currently 2 accepted tribes on the Internet now, those who feel its unethical to turn a profit on the Internet and those who fall into the get rich quick scheme mindset. The panelists were pushing the notion that there was a third, emerging tribe that wants to do well by the community, provide value and ethically earn a living. They also announced a new community around this subject (the third tribe community). Since I agreed 100% with the 3rd tribe philosophy — I want to be a member of it for sure.
Chris Brogan's Keynote rocked. He talked about this huge shift in interpersonal communications due to social media and blogs.
Day 2 (Friday)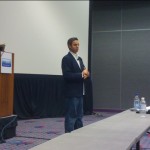 The big highlights for me on Friday were the session on building a loyal audience through Podcasting by Jason Van Orden (http://jasonvanorden.com and http://internetbusinessmastery.com), the Win or Die session in WordCamp by John Pozadzides (http://onemansblog.com) and when me and 9 others went to the Blue Man Group!
Jason Van Orden has the top podcast for the "Marketing" and "Internet Business" keywords. I've been a listener and a big fan of his for quite a while — so this session was a real treat. He diagrammed out not only how he writes and produces podcasts but how he promotes them. Some of the major take aways from this session were to re-purpose content and to push it to as many places on the Internet as possible. He recommended shooting video and then uploading it to a service like Tube Mogul or Traffic Geyser.
John Pozadzides' session at WordCamp was a much more intimate setting — there were only about 20 of us who were there. John P. is the former CMO of the Layered Tech hosting company and is the current CEO of iFusion Labs that created the awesome Woopra analytics package. His message was basically that you've got to take no prisoners when it comes to your website — and some strategies on how you can do it. John P. has also been a user of Pretty Link Pro and talked about it at the end of his lecture as a way to aggressively market your site.
Later that night, I went to the JET Nightclub (at the Mirage) for a scheduled BlogWorld party and rounded up 9 people to go to the Blue Man Group with me. For full disclosure — I got the tickets for free from Partner Fusion who manages the Affiliate Program for the Blue Man Group. I have to say that I've seen the Blue Man Group before but trust me, it never gets old. I think that The Blue Man Group is by far the best show on the strip. One of the ladies in our party, Danielle Williams was actually called out of the audience to eat Twinkies with the Blue Men. Here are some pictures:
Oh, and if you ever wondered what is that crap that shoots out of their chests — it appears to be some kind of mixture of bananas and vanilla pudding or something.
Some of the other awesome people that attended the Blue Man Group with us were Brandon Dove (http://pixeljar.com), Bonnie Schroader (http://blogbonnieblog.com), Russ & Danielle Williams (http://russwilliamsdesign.com), Jason Van Orden (http://jasonvanorden.com), Ronjini Mukhopadhyay (http://theindianfever.blogspot.com), Drew Stronjny & Jennifer Boydstrun (http://jestro.com) … We had a blast!
Day 3 (Saturday)
There was an awesome panel on Saturday morning about the Money Making Potential of Continuity programs. On the panel was Tim Kerber (http://www.membershipsiteowner.com) and Ryan Lee (http://www.ryanlee.com) … This was possibly the most inspirational of all of the sessions I attended — these guys have figured out how to engage, provide solid value to and monetize an audience. They offered a ton of little tips & tricks — but the best part was when Tim started putting numbers up on the projector about revenue coming from some of his membership sites — it was off the hook!
That afternoon, I went back to WordCamp and attended an awesome session by Aaron Kronis (http://www.aaronkronis.com) on "Rockstar SEO" …
At 7pm, I met John Pozadzides (http://onemansblog.com), Cali Lewis (http://geekbrief.tv) and about 10 other people for a photowalk. This was the first photowalk — but really fun. We got some great shots of Vegas — in many interesting and different perspectives than you'd normally think of. Here are Cali's shots from the photowalk — I know you're dying to see mine 🙂 — I'll post them soon.
Some Other Awesome People I Met
Leo Laporte — Okay, I briefly talked to him and shook his hand — he was very nice — it was cool.
Tracy Childers & Stu McLaren — these guys created the Wishlist Member plugin for wordpress and are really cool. I've been looking into it as a replacement for AMember so it was awesome to meet them.
Vic DaSilva — he's the owner of uberreview.com and weinterrupt.com — really cool guy.
Shannon Yelland — She's doing some really cool stuff over at seedtheweb.com
John Reece, Kevin Williams, and Cameron Gawley — I must have bumped into these guys 100 times at parties and on the Expo floor. They are doing some great stuff for the National Breast Cancer Foundation and are expert online marketers.
Take Away
I had no complaints about this conference — really inspired me to come back and take more action. For the most part, the speakers were great, it was a great environment for networking opportunities and I learned a lot. I'll definitely be returning to BlogWorld next year — hopefully I'll see you there!