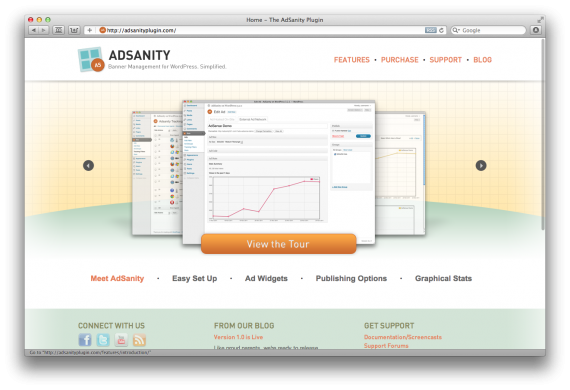 Who do you know that is writing a blog for their business and doesn't want to make money? Stupid question huh?
We all know the best fix for this — get some ads up on your site, right? Have you tried doing that? There's all kinds of HTML to copy & paste, then you have to figure out how to put the ads on the sidebar of your site (or other places) and then figure out how to rotate ads — trying to manage ads manually can be an absolute nightmare — gah.
Well, my good friends, Brandon & Jeff over at PixelJar have now created a plugin that is in my opinion the perfect addition to WordPress for displaying, rotating and tracking ads on your website — its called AdSanity.
Brandon and Jeff are masters at user interface design and haven't bloated this ad management plugin with unnecessary features (although I have a feeling they'll be launching add-ons for this in the future — including maybe one for integration with Affiliate Royale 🙂 ) but have made the simplest, cleanest plugin for ad management you've ever seen with everything you need to start running ads and making money on your blog today.
AdSanity makes it easy to get ads displaying on the sidebar of your WordPress website, it automatically tracks how your ads and will report to you all the information you'll need to see how your ads are performing.
Check out how easy it will be to start running ads on your site today:
Even better, AdSantity just launched today so there's a 25% discount that you can take advantage of if you get on top of this fast. Just go to the AdSanity website and just enter the coupon code t25launch and you'll get the 25% discount at checkout.
Congratulations to Brandon and Jeff on their big launch! WordPress websites have needed this plugin for a long time so I'm glad that its finally here!