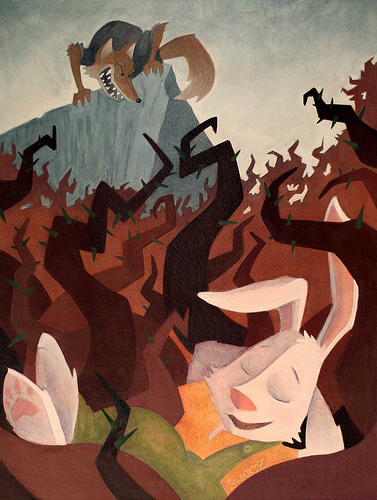 One of my favorite stories as a kid was "Br'er Rabbit and the Tar Baby" … if you've never read the story, the main character, Br'er Rabbit is threatened by his arch-nemesis, Br'er Fox.
Br'er Fox sets a trap for Br'er Rabbit and captures him. Br'er Fox wonders, out loud what he should do with Br'er Rabbit.
Br'er Rabbit says to his captor that he can do anything he wants to him if he promises not to throw him in the Briar Patch.
"Drown me! Roast me! Hang me! Do whatever you please," said Br'er Rabbit. "Only please, Br'er Fox, please don't throw me into the briar patch."
Of course, Br'er Fox looks at the Briar Patch as an inhospitable place where Br'er Rabbit would instantly die.
"The briar patch, eh?" said Br'er Fox. "What a wonderful idea! You'll be torn into little pieces!"
So, of course, Br'er Fox throws Br'er Rabbit into the Briar Patch. But instead of hearing the agonizing screams of death, Br'er Fox only hears silence. Then a moment later he sees Br'er Rabbit behind him:
"I was bred and born in the briar patch, Br'er Fox," he called. "Born and bred in the briar patch."
Of course, Br'er Fox then leaves for his home … unwilling to go into the Briar Patch to re-capture Br'er Rabbit.
The Best Niches are Briar Patches
In this story, Br'er Rabbit was an expert at surviving in the Briar Patch … he was happy in a place that most other animals were either afraid or unwilling to enter. He must have known how to avoid being hurt by the sharp briars, to find food, water & shelter — and thrive.
To be highly successful, you need your own Briar Patch … a skill or niche that most others instantly dismiss as "too mundane," "too technical" (I hear this one a lot) or just plain "too hard."
Briar Patch niches usually pay more money and have less competition because others either dismiss them or have no desire to enter them themselves.
So, the next time you need to decide on a new niche to enter or skill to learn, remember Br'er Rabbit and don't be afraid of becoming happy in your own Briar Patch.