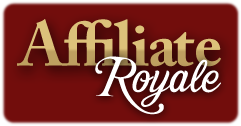 Guess what? Today Affiliate Royale is live. Finally!
In a nutshell, Affiliate Royale is a full Affiliate Program for your products that runs on your WordPress website — it just installs like any other WordPress plugin and is easy to get working with your shopping cart.
Anyway, go check out this awesome, new WordPress plugin over at http://affiliateroyale.com
Oh yeah, as promised we're offering a special deal on it for the launch, but you know that won't last long … so don't wait, get over there asap.