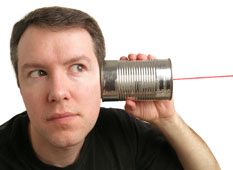 In the history of mankind it has never been easier to figure out who's talking behind your back. Anything published on the Internet is available to the whole world — so you should be able to see it right? Well, many people still don't realize just how easily you can find out who's talking about you — in real time. This kind of tacit knowledge is vital for successful businesses in the fast paced world of the Internet.
I've been using several great tools to find out what people are saying about me for a while now. Its really cool when I can respond to potential customers who are having troubles — without them even contacting me first! I've been able to do this many times and it inevitably leads to a great relationship with these people. Its funny how confused they are when I contact them — they generally have no idea how I could possibly have seen their blog post or tweet.
You can find out when people are happy with you and when they are not — but either way it gives you the opportunity to build great relationships.
Here are 3 tools that I use on a consistent basis:
[Read more…] about Discover Who's Talking About You Online