If you're not familiar with CaboPress is, it's a mastermind retreat for WordPress business owners, hosted by my friends Chris & Melissa Lema and set in pretty much the most amazing venue ever … the Fiesta Americana Resort in Cabo San Lucas.
We just returned yesterday — this is the second year we've been lucky enough to go to CaboPress. Last year we got so much advice and help that we were able to see our business skyrocket … and once again we're stoked about what we've learned because this year's CaboPress definitely did not disappoint.
Of course, the CaboPress hosts this year were absolutely top notch — they included people like Jason Cohen, Steve Zehngut, Jeff King, Jennifer Bourn, Sherry Walling, Karim Marucchi, Brian Clark and Chris Lema … we got insane one-on-one access and truly game changing advice from them. You wouldn't believe who the attendees were either — they were top notch too … I learned so much from them. Some of the attendees included James Laws from Ninja Forms, Cody & Raquel from ModeEffect, Chris & Travis from LifterLMS, David Payette from PayetteForward, Chris Wallace from Lift UX, Andy Wilkerson from UpThemes, Jon Brown from 9seeds, Robbie, Justin & Billy from Beaver Builder, Shawn Hesketh of WP 101 and so many more.
Since I've been back I've had so many thoughts and ideas about what makes CaboPress special. Here are 3 key factors I think that make CaboPress stand out from other WordPress conferences:
Real Friendships
You get unparalleled, one-on-one access to the top WordPress business leaders in a relaxed setting. Both years I've attended CaboPress I've come away with new friendships and have strengthened already existing friendships. There's truly a feeling that we're "all in this together" at CaboPress that just lends itself to forming lasting bonds … no matter the size of your business.
No Distractions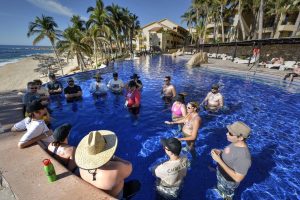 Imagine yourself in a pool with 10 other people including 2-3 hosts with insane business experience engaged in an epic discussion about your business. That's exactly what happens at CaboPress. There aren't any laptops, phones, cameras or mobs of people to distract you or the hosts from getting you the answers you need to level up your business and helping others in the process. Also, because the sessions are small and none of them are recorded, hosts and attendees alike are willing to share many secrets of their businesses openly … I really can't even put into words how valuable this is.
It's Fun & Relaxing
There is so much to do outside of the sessions in Cabo. There are immaculate pools, a full spa, the ocean and numerous restaurants (it's all inclusive so you basically eat all you want) at the resort. The town is close and there were 2 planned trips for all of us, the first was an amazing dinner at Ruth's Chris steak house and the other was an ocean cruise on a Pirate ship (complete with break dancing pirates — it was extremely entertaining). We always leave CaboPress feeling fully refreshed after all of these amazing experiences.
The bottom line is that these key factors helped us to get (and give) a ridiculous amount of valuable information & build lasting relationships to help us grow our business … but because it was at a luxury resort in Cabo it also helped us recharge and reset our minds. I'd really encourage anyone who's running a WordPress business to apply to go next year (hrmmm, well maybe not too many of you … since I hope to get a seat at CaboPress next year too ????) because even though you can read all of the posts about CaboPress, there's no way to really replicate the experience, knowledge or relationships you'll get by actually going … remember, "what happens at CaboPress, stays at CaboPress" — that's the truth.